We drove on to the church campus which was surrounded by fields and fields of corn. A seemingly strange place for a megachurch. We entered the building, and since we were early, we found our way to the Bookstore/Coffeehouse called Solomon's Porch. As we waited, we talked about what brought us to this place, our struggles, our questions, and our fears about what we were there for. And would it be just another workshop notebook thrown onto the pile of other workshop notebooks on my bookshelf or in my filing cabinet? When it was close to time for the workshop to start, we walked down the hall and were transported from the evangelical megachurch in the cornfield in the midwest, to what resembled a Catholic chapel in either a monastery or in a cathedral. And all we did was open a set of ornate wooden doors into what is called The Upper Room. We were instantly awash in the glow of candles, the sound of Chant music playing, and the beautiful art of the Stations of the Cross hanging on the walls.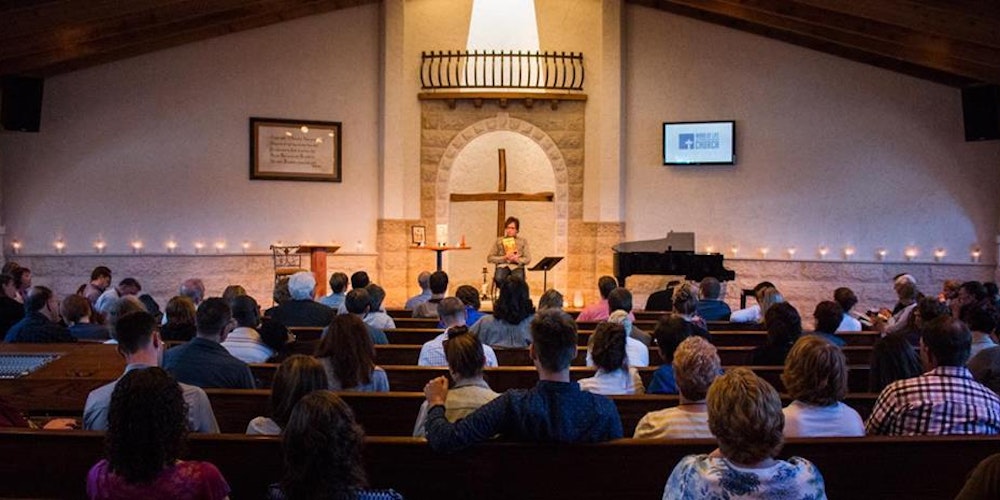 We took our seat waiting for the beginning of the workshop. I knew that I was in the right place, when the speaker, Brian Zahnd, said he had been praying this prayer liturgy for 10 years, but he had been a pastor for 30. You see we were in St. Joseph, Missouri at Word of Life Church for Brian's Prayer School. We were there to learn how to pray, after being in ministry for 20 years, 8 of those years serving in a church plant that my wife and I founded.
You see, honestly, I have never felt very spiritual. I have never been really good at praying, being still and being quiet. I would hear other Pastors talk about waking up at 5 AM and praying for 3-4 hours and I thought I could never do that. Prayer for me "often becomes a giant cesspool of guilt." I've often been told to pray, but not been given the resources to pray well. And that is why I was at Word of Life Church in St. Joseph, MO that July weekend with my wife.
I knew that I needed help in learning how to pray, and in growing my prayer life. I knew that I need a resource to help me pray well. I knew that if I were to last another 20 years in ministry, especially in church planting, that I would need to learn how to develop a rhythm of prayer. I needed, what Brian, called a trellis, a liturgy to guide my prayer life. To get my prayer life off the ground, like the roses that grow up trellises. And so that I could be properly formed in the ways and life of Jesus. And being at Prayer School has given me a liturgy of prayer that I am seeking to follow each and every morning.
This prayer liturgy is like walking a labyrinth. The first half of the liturgy moves us into the presence of Christ culminating in the center with a time of contemplation or in other terms, sitting with Jesus. As you "walk" (pray) toward the center of the prayer liturgy your walking companions have been walking with Jesus for a very long time. You walk with the Psalms. You journey with the Jesus Prayer. You walk with the Lord's Prayer. You pray through the gospels. You pray prayers of confession. You recite the Apostles Creed. And you also spend time praying for your family and other prayer requests that you want to bring and leave at the feet of Jesus.
The second half of the prayer liturgy moves us out in the world, helping us have proper position in the world because we have sat with and at the feet of Jesus. When we have been sitting with and at the feet of Jesus, spending time walking with him and having other walking companions, our prayers change, we change, and then we want to go out and be change agents in the world. As we "walk" out the prayer liturgy into our world, our prayers begin to shape us into the kind of people Jesus wants us to be in his world. Our outward journey from the center includes walking through the beatitudes, praying prayers of peace, and praying the Prayer of Saint Francis. We also walk with the Prayer of the Week from the Book of Common Prayer. Finally, as we round the corner of this prayer liturgy and begin to see the light of the world around us, we pray a prayer of mercy, a confession of mystery, and finish with the Jesus Prayer.
With that, we walk out of the Prayer Liturgy and into the world that Jesus loves.
We have spent time in the presence of Jesus. And we have gained new eyes to see
the world the way that he does. Our prayers have changed. We have changed. If you, like me, don't feel very spiritual. If you, like me, have trouble getting your prayer life off the ground. If you are looking for a way to connect honestly, authentically, and transparently with God. If you are looking for a way to be formed in the ways and life of Jesus. Then I would highly recommend checking out Prayer School with Brian Zahnd. Visit www.wolc.com to find out when they will be offering Prayer School. But if you can't get to St. Joseph's, MO, like my wife and I, then at least pick up his book Water to Wine in which he spells out this prayer liturgy. And I trust that when you begin using the prayer liturgy each and every morning your prayer life will get off the ground just like roses clinging to a trellis in a garden. And you will find yourself being formed in the ways and life of Jesus.
Ryan Braught is the Pastor/Church Planter of Veritas. Along with his wife, Kim, and kids, Kaiden and Trinity, he founded Veritas in 2009. Ryan has a BS in Telecommunications from Kutztown University and a Master of Arts in Religion from Evangelical Theological Seminary. Besides his work with Veritas, Ryan loves to read, listen to music, snowboard, and spend time with his family.
Image Credits: Word of Life Church and Eventbrite