Tim Harvey, pastor of Central Church of the Brethren in Roanoke, VA recently shared some observations on small groups in church life in preparation for their congregational business meeting. In this post Tim discusses the components of vibrant small groups in the life of the congregation. The post was originally shared on Tim's blog on the Central congregation's website. 
Our congregation has recently experienced renewal through the ministry of the Hunger Group. Originally conceived as a short-term study group in the summer of 2011, these Central members have found renewed energy, focus, and challenge through their commitment to understand and alleviate hunger in the Roanoke Valley.  We have each benefitted from their leadership.
Small groups are not new to the history of the church. In fact, the Church of the Brethren began as a small group, as eight persons gathered for Bible Study, prayer and baptism in 1708.  Many Christians throughout the years have found a deepened sense of faith and commitment through the shared life of a small group.
In order to be effective, a small group needs to find togetherness in the following areas:  someone to bring the group together; a commitment to stay together; a focus which guides theirstudy together; opportunities to do mission together; chances to get together; and times to pray together.
The first two categories are the minimum commitment for a small group to exist in any meaningful way; without these, the group is significantly flawed and will struggle to accomplish effective ministry.
Leadership is what brings the group together.  Leadership takes a number of forms:  a convener; a study leader; a fellowship coordinator; a mission coordinator, just to name a few.  In fact, an effective small group will divide up these tasks among the group members, thus sharing in the overall group planning.
A commitment to stay together is also critical.  This commitment will vary from group to group, depending on the purpose.  A prayer group or life-stage group may stay together indefinitely; a study group (like we offer in the summer) or a focus group (like our membership class) will meet for a short period of time, or until a particular task is complete.  Whatever the case may be with each group, commitment must be clearly stated and agreed upon:  how often the group meets, how long the group plans to exist, and what members do to prepare for group meetings are key questions.
The next four categories will vary from group to group, depending on the purpose of the group.  They need not exist in equal proportion, but will be present in some form:
A small group should study together.  This will likely be what brought the group together in the first place; whether the group is a Sunday School class or a mission group, a time of study will open our minds to greater understanding of God's activity in our lives and in the world around us.
A small group should do mission together.  Whatever the purpose of the group, there should be some project that takes the group outside of itself into the community.  When we put mission first in our lives, the Spirit opens up some interesting doors.
A small group should get together for fellowship.  Whatever the main purpose of the group (mission, study, prayer, etc.), the overall group experience will be enhanced by spending time together doing other things.  Deep relationships centered around fellowship can powerfully impact the group's commitment.
Finally, a small group should pray together, encouraging one another in their shared spiritual growth.  Through prayer and discussion, group members can help one another grow in deeper faith and commitment.
As our congregation moves forward and seeks continued renewal and growth, small groups should be at the forefront of our thinking.  Approaching our Spring Council Meeting, I see several implications of small group thinking for our congregation.
First, the days of measuring church commitment by a willingness to serve on a committee are over.  Instead, small groups with a strong emphasis on mission and spiritual growth must be the priority of our congregation.
Second, consider the small group(s) (Sunday School classes) you are in.  How are the above six characteristics on display in that group?  Is there a clear investment in shared leadership?  Have each of the members in the group expressed their own commitment to the group?  In what proportion are the qualities of study, mission, fellowship, and prayer present?   If these qualities are there, then thanks be to God!  If they are not, is it time for some soul-searching among group members?  Could it be that the group has simply outlived its original purpose?  Is it time for the group to be either renewed or disbanded so members can reform into a new group?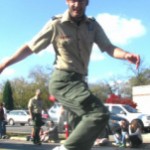 Tim Harvey is pastor of Central Church of the Brethren in downtown Roanoke, VA. He and the congregation work hard at issues of renewal and revitalization, both in the congregation and in the downtown community. Issues of spiritual and literal hunger are recurring themes in their mission and ministry. And yes, he rides a unicycle!