Four days after this year's election—one of the most contentious in our nation's history—I traveled with a group of college students to a social justice conference in Washington D.C.
I went to the conference in my role as a campus minister at a small Catholic college, where I had started working a few months earlier. As an Anabaptist-Mennonite, I was just beginning to find my place in the job, working mostly with students from Catholic and non-denominational Christian backgrounds.
At the conference, we gathered in a large room with about 1,800 others, mostly high school and college students from Jesuit institutions. (Jesuits tend to be on the progressive edge of Catholicism.) The evening featured many speakers, and almost every one of them—from the young emcees to the wizened keynote speakers—prefaced their comments with a lament about the election results. "We're all feeling angry and fearful and despairing," they said.
Except we weren't.
As the evening unfolded, my co-worker and I realized that at least half of the students in our group had voted for Trump. I'll confess that I couldn't fully comprehend why they had made this choice. Or why they would make this choice and also sign up to come to a social justice conference.
I should say that social justice conferences are kind of my thing. The topics, the tone, the very vocabulary of this conference were all fairly comfortable for me.
But then there were my students, crying in the hallway. Frustrated at one more reference to the election that assumed everyone in the room felt the same way. Pained that a conference about mercy and inclusion didn't seem to include them.
I don't think the pain and frustration they felt are comparable to the fear experienced by undocumented immigrants, LGBTQIA+ folks, and African Americans, who are uncertain about what the new administration will mean for their very being in this country. But pain and frustration were felt by my group of students at the conference. Their feelings were real.
By the second day of the conference, I found myself hearing the speakers with my students' ears. I cringed at each new mention of the election. ("You'll notice I'm wearing black today," the final speaker said in her introduction, signaling her perspective to the group.)
One of the few speakers who made little mention of the election was Father Greg Boyle. Fr. Boyle has spent thirty years working with gang members in Los Angeles. "Imagine a circle of compassion," he said. "Then imagine no one outside that circle."
No one. Not the person shot by a gang member. Not the gang member who did the shooting. Not the Black Lives Matter activist, and not the college student who is upset by those black voices. Not the Trump supporter, or the Hillary supporter, or the Gary Johnson or Jill Stein or Evan McMullin supporter—all of whom, I discovered, we had in one van on our trip to D.C.
Imagine all of us in a circle together.
Some days it's not hard for me to imagine that because it kind of happens in our office. The Campus Ministry Office (or "CMO," as it's affectionately calle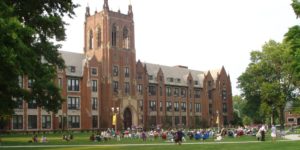 d), is a welcoming space with orange and blue painted walls, old couches reminiscent of a church youth room, and posters of MLK, Mother Teresa, and U2. There are always snacks on the table; the fridge is always stocked with drinks. Students come before class, after class, sometimes during class, for a little break, a little juice, a little (or sometimes a lot of) conversation.1
Thanks largely to the skills of my boss, who has a much longer history doing this sort of thing than I do, our office is a space of compassion for most people who enter it. I don't always agree with the opinions people express when they are there. I am sometimes baffled by the comments students make and the choices they embody.
But I am learning to see us in a circle of compassion together, mostly because they've shown such compassion to me.
While many students at my school aren't Catholic, none of them, as far as I know, is a Mennonite. The school took a risk by hiring me as one of just two campus ministry staff members. A lot of our student leaders are Catholic, and if they've been confused or annoyed by working with a non-Catholic minister, I haven't felt it. They participate in service projects I organize, eagerly registered for a spring break trip I'm leading, and sometimes even ask me what I think about a particular topic.
I do feel like an outsider sometimes. I don't partake in the Eucharist, even though I attend our Sunday night Mass almost every week. I don't share some of the Catholic assumptions about moral issues, or reverence for particular saints, or familiarity with liturgical language. I am young and married and female in a tradition that reserves its highest positions for older celibate men.
But most of the time, I feel solidly within the circle. And maybe because of my brief excursions outside the circle, I am constantly on the lookout for people who may also feel on the fringes and am constantly thinking about ways to bring them in.
At the end of the conference in D.C., one student reflected that, if nothing else, she at least experienced what it felt like to be in the minority, to feel excluded. This experience wasn't a familiar feeling for her, and she understood that it was part of what others at the conference had been so concerned with addressing. Admittedly, having a minority opinion at a conference is not comparable to living as part of an oppressed minority group. But I sensed in this student an openness that surprised me, a willingness to make something meaningful out of what had been a difficult situation for her. And I've seen that openness continue in conversations we've had since.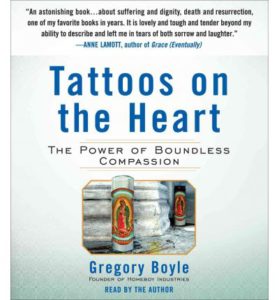 In his book Tattoos on the Heart, Greg Boyle writes,
God, I guess, is more expansive than every image we think rhymes with God. How much greater is the God we have than the one we think we have.2
((photo credit: Book Depository)) Every time I think I have a handle on who God is, what God wants, God's definitive view on one thing or another, God expands my idea of God.
I am working on imagining a circle of compassion with no one outside that circle. Not the conservative student, not the liberal professor, not the senior who is struggling, not the sophomore who thinks she knows it all. Not the Catholic or the Mennonite or the atheist comes with me to volunteer at the nursing home. No one outside.
Fortunately, I get to practice drawing that kind of circle almost every day.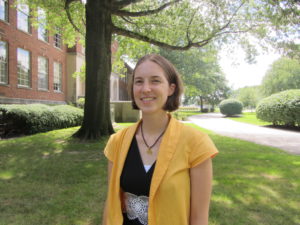 Anita Hooley Yoder works as Campus Ministry Coordinator at Notre Dame College in South Euclid, Ohio. She and her husband live in the Cleveland area and attend Friendship Mennonite Church. Her book on Mennonite women's organizations is forthcoming from Herald Press in summer 2017.
photo credit: Brockway Properties [↩]
Gregory Boyle, Tattoos on the Heart: The Power of Boundless Compassion (New York: Free Press, 2010), 190. [↩]