For this blog post, we are publishing two audio recordings in the style of NPR's "This I Believe." Below are the audio files as well as their respective transcripts. Each piece is less than four minutes. So listen. You will get a lot more out of both pieces this way. They are meant to be listened to rather than read. Enjoy these creative and thought-provoking pieces!
Thinking about Plastic Straws
I had never really thought much about plastic straws. The disposable ones from fast food that are punched into plastic lids or from sit down restaurants where waiters leave the paper lining at the tip top so the customer can feel like the straw is sanitized. I used them, I needed them, and they came without my prompting. I had never really thought much about plastic straws until I saw a video.
The video showed a team of microbiologists surrounding a giant sea turtle that had been brought onto their boat for routine study. The angle focuses in on the turtle's face—a tan crinkled piece of something lodged into his nose. Hands move in and out of the frame—hands holding him in place, a hand moves in with pliers towards the bit in his nose. They grasp hold of the crinkled piece of something and begin pulling slowly—it doesn't come with ease—the turtle's eyes close in a wince. The turtle hisses in pain as the pliers make slow progress. Eight painstaking minutes later, the pliers extract a wizened 4-inch plastic straw. The disposable ones with the stripe on either side of the straw.
There's something like 7 billion people in the world. If we all went for a single fast food run or restaurant visit this week, just one, there'd be 7 billion straws released into the waste stream. If we all went twice, there'd be 14 billion straws floating. If we went once this week, and once next week, and then the next week and then the next there'd be 28 billion straws just in a month. Every restaurant I have ever been to in 27 years has never been without plastic straws.
Plastic straws don't go away. They drift to ocean floors and mistaken for gangly see grass they are eaten by sea turtles. Can you imagine sneezing and a hard spaghetti noodle lodging in your nose? Plastic straws don't go away because plastic doesn't go away. Every piece of plastic ever created still exists. I didn't shove that straw into that turtle's nose, but I have used plenty of straws at McDonalds or Olive Garden. I'd left them in glasses, tossed cups into the trash—not following the flow of that glowing black trash bag. I acquiesced to a little piece of plastic over and over and over again.
Why do I need a plastic straw in my glass of water at a restaurant? I don't use a straw for any drink I have at home. I drink water out of a glass like an adult. It's not hard drinking water straight from a glass at a restaurant, if you have the facilities to do so. The effort is in a simple phrase uttered with an order: "No straw, please." Waiters and waitresses used to middle-class requests bring a glass full of water, empty of a straw. I had never really thought much about plastic straws before and maybe one day, we won't have to again.
Black Lives Matter… in Public Health Too
As a child, I remember my grandmother locking the car doors when we entered the city. She lived in fear (about a lot of things, really). But, was she afraid of the right things?
I've twice heard sounds of gun violence. Admittedly, both times were in cities. But, I've known several people living in active addiction, even some who died of overdose or drug instigated suicide, and none of them grew up in the city. Most went to supposedly nice middle-class schools.
"Tonight's lead story: A child shot and killed on Apple St. Fun and recreation have been stripped from the weekend by the macabre – as increasing gun violence leads area parents to keep their children indoors. Mondays are now a respite from voluntary house arrest as school playgrounds remain the only safe place to play."
Gun violence kills. That's not a belief. It's a fact.
"Next comes devastating new data from the Sheriff's Office. Heroin overdoses have quadrupled to roughly twenty deaths monthly. Mothers. Sons. Dead. Buried. Such staggering numbers leave this newscaster wondering how many more preventable deaths are necessary before the Drug War is finally be won."
Drug abuse kills. That's not a belief. It's a fact.
But, where are the headlines about heart disease? High blood pressure? Diabetes? Infant mortality? Guns and drugs are serious. But fake and fast food are really killing us. If you're a black member of the urban poor, you're much more likely to be killed by Popeye's Chicken in your gut than a bullet in your chest or a needle in your arm.
I believe that Black Lives Matter in public health too. Urban lives. Poor lives. Single-parent lives. The lives of those without reliable transportation.
Sure, I believe in beef brisket. In venison sausage. In pulled pork. And fried turkey. I believe in macaroni and cheese. And in potatoes fried at least a dozen ways.
But, I don't need to believe that diabetes can lead to limb amputation… I've seen it.
I don't need to believe that it's easier to buy Ho Hos than fresh spinach. A million reluctant and sorrow-filled mothers will confirm this as they begrudgingly give their sons a buck fifty and send them to the convenience store. I've lived in the burbs and in the city and I don't need to believe that the grocery stores are different. I have seen it. My wallet and my stomach know this to be true.
If I were a betting man, I wouldn't like the odds finding someone who takes homemade rice crispy treats as seriously as I do.
I believe grandmas and aunties in the kitchen are saints.
I enjoy a cool glass of moscato d'asti. I might even enjoy a second. I know I can handle that… because I'm over six feet tall and weigh over two hundred pounds. I also know, though, that addiction runs in my family. And that I'm prone to the obsessive. I dare not flirt with crossing the line into dependency.
As much as I love a good brisket or believe that cereal isn't meant for milk but for marshmallows and butter. I believe in temperance. In moderation. In food prep on Sunday nights so my busy schedule doesn't tempt me to visit the Colonel. I also believe, beyond any action I can take, that healthy, nutritious food is a human right.
I'll never forget being in a room full of family, watching them all take their blood pressure, believing the cuff was malfunctioning because it said each of them was reading high. I'll never forget the chill in that room when mine read 108 over 69.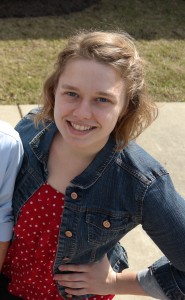 Katie Heishman is an MDiv student at Bethany Theological Seminary and co-Program Director at Brethren Woods Camp and Retreat Center with her husband, Tim. They live in the Shenandoah Valley of Virginia and attend Linville Creek Church of the Brethren.