I am a Theatre Design and Technology major. Often, people have no idea what my major involves, so I will explain. Technical theatre includes many different concentrations such as lighting, sound, props, costume, set construction/design, and stage management. This major is very hands on and I am learning how to design and construct vital pieces for the shows Otterbein University produces. It is important that I can see the beauty in the art that I design and construct to better express the theme of a show. My perspective of beauty has been greatly influenced by the creations that God has made.
I find that it is easier to see the beauty in my surroundings because I am a follower of Christ and I have so much appreciation for God's creations. I tend to see beauty in the world around me and in the art that I create, as well as the art of my peers. Though my assignments may be challenging at times, I find that they are simpler to complete when I strive to reflect God's beauty. When I see what God has created, I see the beauty and perfection in it. When I see an amazing sunset, I want to be able to paint it and make it as perfect as what I see before my eyes. Every day God's creations encourage me to strive to create art that reflects such beauty.
When it comes to my artwork, I feel like I often see God in it. I have created paintings, costumes, and props that I never thought I had the talent to do so. I have seen the art work of others and admired the beauty it has brought to the stage. Everyone I work with has their own special talent, which I believe is a gift from God. Romans 12:6 says "In His grace, God has given us different gifts for doing certain things well." If God has blessed us with a talent, shouldn't we be using it to the best of our ability? There is not a doubt in my mind that God has blessed each and every one of us with our own unique talents and skills. Whether we acknowledge that or not on a daily basis, we can see it in our finished products. I see this when a show opens and all the aspects of it have come together on the stage to complement each other and paint a picture of beauty for the audience to see.
As Brethren, simplicity is one of our core values we believe in. I believe that being simple is quite important, especially when it comes to our material and earthly possessions. I think that we should use what we possess and not have so much that it is wasteful. Simplicity comes into play quite often when I am working in the theatre. We try to use only what we need in order to complete a job in a safe and successful way. Simplicity helps us cut back on waste and save money for other aspects of a show we are producing. Simplicity is a good value to have whether you are using it in the workplace or in your church.
While simplicity is an important value to have, I believe the church has become too comfortable in it. Ministry has become something that we have made simple. I believe ministry shouldn't be simple; it should be bold and take us out of our comfort zone. Often in the world of theatre, we are asked to step out of our comfort zone; whether it is to take on a leadership position or to create a significant piece for a show. Churches need to be willing to be bold and step out in their faith to reach others. The disciples are amazing examples because they got up and left everything they knew to follow Jesus and preach his teachings. Matthew 4:19 says "Come, follow me," Jesus said, "and I will make you fishers of men." Shouldn't we strive to do the same? We should spend less time focusing on how others perceive us, and more time on pointing them in the direction of Christ. If we are afraid to step out in our faith, how are we to further the kingdom of God?
For more information about Otterbein University's department of Theatre and Dance go to http://www.otterbein.edu/public/Academics/Departments/TheatreDance.aspx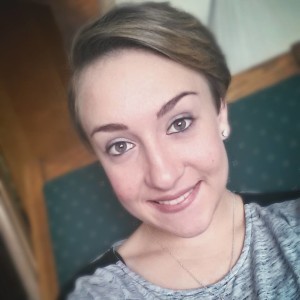 Melissa Schlecht is a sophomore at Otterbein University pursuing a degree in Theatre Design and Technology with a concentration in Costume Design and Construction and a minor in Film Studies. An active member of the Potsdam COB (when she's home), she recently helped lead Potsdam's Youth Theatre Camp this past summer. She hopes to bring her heart for God and his Kingdom to the world of theatre and film.