The following originally appeared on the blog Anabaptist Historians and was republished here with the permission of the author. For more on Anabaptist Historians, check out https://anabaptisthistorians.org/about/. 
History matters in the church. It matters what kinds of stories are told about our past, and who gets to tell them.
This was obvious at the recent Mennonite Church USA convention in Orlando, where a timeline exercise brought up some past events and issues but left out others. (See Joel Nofziger's recent post)
As I worked on a book on the history of Mennonite women's organizations, I found myself especially captivated by stories I had not heard before, and did not fit neatly into a typical understanding of Mennonite women. I was specifically fascinated to learn about the activities of Black and Hispanic Mennonite women, which began in an organized way in the 1970s and, to some extent, continue to today.
These activities are narrated in just one chapter in the book, but I hope the chapter I wrote is just the beginning of more writing and sharing about what happened at these events and the way God continues to work through Mennonite women of all kinds of backgrounds.
Below is an excerpt from Circles of Sisterhood, about the start of the Hispanic Mennonite women's conferences. To read more, purchase the book! You can order online from Mennonite Women USA or MennoMedia.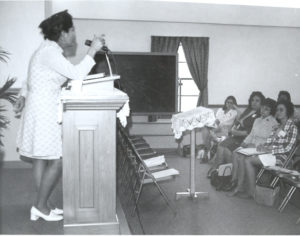 The first Spanish-speaking Mennonite women's conference was held in April 1973 in Moline, Illinois. Maria Bustos, wife of pastor Mac Bustos, coordinated the gathering, along with Lupe Bustos and Maria Rivera Snyder. Several reasons were given for the one-day event, which was called a servicio de inspiración. Seferina De León described it as an opportunity "to have a group of our own to listen to each other and figure out how we can help each other."1 The organizers specifically wanted to gather women whose husbands were involved in church work and spent much time traveling, so the women could have a meaningful time together while their husbands stayed home.2 In a Voice article about the conference, Lupe Bustos wrote that the gathering arose from a concern for women who could not speak English and had never had the benefit of participating in the WMSC [the Mennonite Church women's organization].3 As a woman of "American-Spanish descent," she had been encouraged by attending WMSC meetings and wanted to provide similar encouragement for Spanish-speaking women.4
At the first conference, about sixty women gathered from churches in several Midwestern states as well as New York and Texas. Lupe Bustos's article described the event as having women's marks of creativity and care: hospitable overnight hosts, corsages for each participant, a craft project fashioning crosses out of a variety of materials. But the most memorable aspect of the event was the spiritual presence that pervaded it. The Spirit-led singing, prayer, and testimonies came to a climax when the women gathered to take communion. Mac Bustos wished to join the group for the communion service, which was led by pastor Mario Bustos. Suffering from leg pain and other health complications so severe that he was planning to give up his pastoral work, Pastor Mac was assisted into the sanctuary. Women nearby laid hands on him as they prayed and praised God. Suddenly, Mac got up and said, "Praise the Lord, all pain is gone!" He began going up and down the steps to show his increased mobility.5 "Tears just streamed from all of us," Lupe Bustos wrote. "We realized that God still performs miracles; and a miracle happened to all of us there, because we were renewed again in Him."6
The conference's leaders viewed the miraculous healing of Mac Bustos as confirmation of God's presence with them and as encouragement to continue their gatherings. At the October 1973 Minority Ministries Council meeting, they made plans for another conference and also adopted the name Conferencia Femenil Hispana Menonita (Hispanic Mennonite Women's Conference). This is the name the group uses today, after a several-year period of using the name Sociedad de Damas Cristianas en Acción (Society of Christian Women in Action).
A 1974 gathering was planned for Lancaster, Pennsylvania. The first gathering was presumably paid for by the women themselves; Maria Bustos lists "faith" in the finances column on a chart showing figures for the early conferences.7 To help with the second conference, the Concilio leaders wrote to the WMSC requesting a grant of $3,000 for "las hermanas." The WMSC executive committee decided to make the money available, even though it required some temporary reallocation of funds. Beulah Kauffman, WMSC director, wrote a letter to the WMSC district presidents explaining the move and reminding them of the WMSC meeting at the 1973 MC assembly. . . . At that meeting, women had expressed that they would "stand ready to help in whatever ways possible" when "clearly defined" needs of Spanish-speaking members were presented. Kauffman described this request as just such a need and expressed hope that women across the denomination would consider making the Hispanic women's conference their annual giving project.8
The WMSC money was apparently the only outside funding received for the 1974 conference. Women from many Hispanic churches contributed through offerings, craft sales, and other fundraisers, either to support the conference in general or to fund the travel of their own members. Lois Gunden Clemens attended the gathering as a WMSC representative. She reflected in a July 1974 Voice article: "It has been good for me at various times to be a minority within a Christian group representing a cultural heritage different from mine. My heart has been strangely warmed in sensing the oneness I could feel with them. This was true again when I joined our Spanish-speaking sisters gathered together in their Lancaster meeting."9 Enriqueta Diaz summed up her sentiments about the conference in an August 1974 Voice article: "It is marvelous that in a reunion like this we can share with each other ideas, emotions, and thoughts, all in our own language and in a cordial environment. Praise God for His love!"10
Excerpt and photo are from Circles of Sisterhood by Anita Hooley Yoder. © 2017 Herald Press, Harrisonburg, Va. All rights reserved. Used with permission. www.HeraldPress.com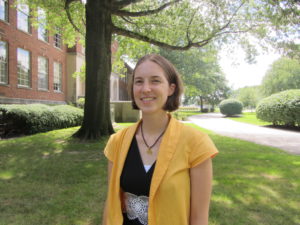 Anita Hooley Yoder works as Campus Ministry Coordinator at Notre Dame College in South Euclid, Ohio. She and her husband live in the Cleveland area and attend Friendship Mennonite Church. She is also the author of the recently published book on Mennonite women's organizations, Circles of Sisterhood. Anita serves as secretary of the Brethren Journal Association Board.
Quoted in Felipe Hinojosa, Latino Mennonites: Civil Rights, Faith, and Evangelical Culture (Baltimore: Johns Hopkins University Press), 152. Maria Bustos is often referred to as "Mary Bustos" in publications, since there were many other "Marias" involved with the organization. I follow Hinojosa in using "Maria."
Ibid., 152–53.
Lupe Bustos, "Historic Women's Assembly," Voice, April 1973, 5.
Ibid.
This event is also written about in several other places, including Hinojosa, Latino Mennonites, 153.
Bustos, "Historic Women's Assembly," 5–6.
Mary Bustos, "Report to the Executive Committee," November 10, 1978, box 1, folder 3, WMSC Partnerships Records, 1973–1992 (IV-20-008), MCUSAA– Elkhart.
Beulah Kauffman, letter to district WMSC presidents, April 3, 1974, box 4, folder 19, Women's Missionary and Service Commission Executive Committee Records, 1917–1997 (IV-20-001), MCUSAA– Elkhart.
Lois Gunden Clemens, "Editorially Speaking," Voice, July 1974, 2.
Enriqueta Díaz, "Hispanic Women's Conference," Voice, August 1974, 11.