by Sue Mock
My journey with the Death Row pen pal project began with a seminar led by Rachel Gross at our church about four years ago.  Prison ministry was something that was drawing my heart, but I wasn't sure how to get involved until Rachel opened the door.  There were so many disturbing facts that she shared that I knew this would be a part of my life in a very meaningful way.  I first shared with her that I would be interested in having a pen pal that might have difficulty with writing, as I was a learning disability teacher and understood students who have some challenges communicating.  Alden Harden was who I was matched with, and he has been an extremely articulate man with a beautiful way of expressing himself especially through poetry.
Our letters went back and forth from North Carolina to Indiana at least once a month.  We began with getting to know each other through our daily routines, likes, and dislikes.  It is surprising how many common things can be found even with such different surroundings.  The common threads throughout our written conversations were respect, genuine interest in each other's lives, mutual concern, and a deep belief in God.  We have shared about our childhood, siblings, parents, youth groups, joys, daily routines, jokes, sermons, disappointments, frustrations, and more.
My husband enjoys photography as a hobby.  This has opened up a window for Al that has turned into a blessing for both men.  Max searches his pictures, finds several that go together, and writes a little about them with each letter I send.  Al has a chance to see, through Max's camera lens, a whole different world than the confines of the North Carolina prison walls that surround him.
About a year ago Al started sending poems that he had written.  I love poetry, and his poems were beautifully written from his heart.  I thought he might enjoy seeing them in print, so I typed them and sent them back in my letters.  More and more came.  Some were very soulful and filled with life-lessons learned, and others were light and whimsical.  But all were a beautiful expression of a delightful, loving, caring, dear man sharing himself though poetry.  An idea sprang up that we could put these together in a book.  Al  was so excited about that idea that I began the work of creating a poetry book, using my husband's photographs of our church worship centers as the illustrations for each piece.  Another friend, who had created many books of vacation destinations, shared her work with me,  which greatly increased my enthusiasm.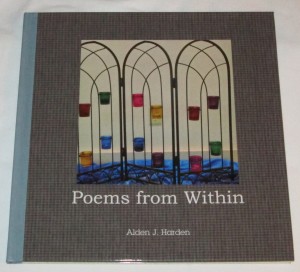 Several hours of editing and rearranging produced a lovely book of Al's poems with Max's photos illustrating each one.  I purchased two copies.  One was sent to Alden Harding at Central Prison in North Carolina, and one went to me in Indiana.  Both of us were thrilled with the results.  As soon as Al received his book, he asked how he could get more copies, as several folks were interested.  For his Christmas gift this year, I sent six copies to his loved ones.  It was such a rewarding way to honor this man who had written such amazing work and to provide a way for him to share himself with his family.
A couple months have passed, and more copies are wanted for more folks.  I am not sure what shape this project will take, but I do know that I am so grateful to be part of this journey with Al.  God can join together two unlikely people with such different backgrounds and create a beautiful friendship and an amazing book of poems.
Where is God in all of this?  God is in the stirrings of a heart wanting to serve and connect in an upside-down way.  God is giving courage and opening spaces for individuals to share faith stories and personal insights.  God is providing respect and honor to the worthiness of each of us and giving opportunities to share with others.  This project is connecting the dots of God's love in action.  It is a story about changing lives, attitudes, and hearts into the essence of New Beginnings and touching the fabric of the Easter message.
I would like to close with one of Al's poems.
Dear……..Penpal,

Thanks for making my heart smile.

It's a real pleasure

It's no way to really measure.

Things you put in print makes me grin.

You've become quite the friend.

No, I don't have many,

Yet your rigorousness has proven plenty.

I love our in-depth talks.

They're cozy like moonlit walks.

The way we share so many things,

Hurts, pains, future dreams,

Thoughts of you can engulf me for hours.

Capture my mind in translucent powers.

The way you virtually hold my hand.

In this crazy and barren land.

When I lay awake in the bleak of night.

Alone with my thoughts and all wound up tight.

It's rereading your thoughts

That seems to make all things right.

Thanks,

Dear Pen………….Friend.

by Alden Harden
Sue Mock is a member of North Manchester Church of the Brethren (South/Central Indiana District) and an elementary special education teacher in Warsaw, Indiana.
Learn more about the Death Row Support Project at their website, and sign up to get involved here.
After Sue wrote this article, she received the following words in a letter from Al: "Yes, [the copy of the poetry book Sue sent him for his birthday] actually got here on the 19th, so it made for a lovely gift.  Funny, most times, the legal mail person comes around to the pod cell for or rather with our packages such as this.  They actually called me to the sergeant's office to sign for it.  Then the sergeant asked to check it out.  The lieutenant then got whiff of it and asked to check it out.  Said that he thought it was really good and asked if I had another one in the makings.  Another sergeant on this rotation actually has hold of it now.  I can hardly believe folk think it's truly good."