My first trip to the Holy Land was one year and five months ago. It was a trip that absolutely enthralled me. When I returned home, I knew I had to go back. From February through May of this year, I lived with a Palestinian Christian family in Bethlehem. I came away more captivated by the region than I had thought possible.
You see, Palestine has a distinctive way of enchanting those willing to expose themselves to the tragic and beautiful reality that is the Holy Land. She is warm and welcoming, but at times remarkably tense to one unaccustomed to perpetual hostility. The stunning sight of the rolling hills of Bethlehem and the sharp, stony mountains of Wadi Qelt near Jericho are enough to mesmerize even those oblivious to the convolution of the region. The true exceptionality of Palestine, however, is found in the beauty and complexity of those living in Bethlehem, Jericho and the rest of Palestine.
The too-short experience I had in Bethlehem was humbling. It required me to forego the place of comfort I had the privilege of enjoying in the United States. At once, this distant region I had been reading about in books and hearing about in podcasts became familiar as I grew to love the family who hosted and cared for me. Palestine was no longer made up simply of statistics and newscasts. The stories of Palestinians' homes being raided in the early mornings had, overnight, become stories of my neighbors. When something like this happens, staying removed from the raw realities of people's lives becomes impossible.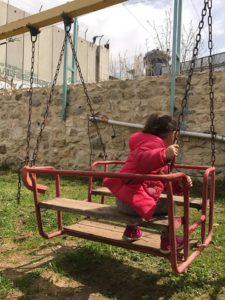 I could spend this short space listing the statistics of life under occupation in Palestine, but it seems better spent painting a picture of the people I lived among in Bethlehem (although I highly recommend that you take a look at Human Rights Watch: Israel/ Palestine and UNICEF- State of
Palestine for information regarding the occupation). As a seminarian, this picture is painted unashamedly in light of my theological perspective as a follower of Jesus.
Days before boarding the plane to Tel Aviv, I began to feel anxious about my quickly approaching adventure. I prepared to leave for a place whose native language I did not know, to live with a family I had never met, and to navigate a culture with strict guidelines for women. But I knew all of these anxieties had to be confronted. Not because I needed to prove to myself that I could do it (well, maybe that was part of it), but because the convictions I had as a Christian compelled me to take this step of faith. If I believe that the crucifixion and suffering of Christ is an invitation for us to stand opposed to suffering, then how could I not expose myself to the oppressive realities in which people live?
About a month into my stay in Bethlehem, I witnessed my first protest. The Wi'am Center where I was interning is located beside an Israeli watchtower and the separation wall. The Center had decided to close early because of the protest. I stayed back to observe part of it with my friend, a young Palestinian woman. Within a moment, the peaceful protest erupted with tear gas, sound bombs, rubber bullets, and rocks. My friend grabbed my arm and told me to run. I followed her down a side road into a shoe shop. After attempting to leave the shop only to rush back in the building when the armored truck came plummeting down the road greeting us with more tear gas, the shop owner graciously offered to give us a ride up the street where things were calmer. When we were outside the range of chaos, my friend and I hopped out of the car. Without a second thought, my beautiful Palestinian friend looked at me said, "I'm hungry. Let's get shawarma!" Despite my entire body trembling from what I had just witnessed, I had to laugh at how utterly unmoved she was by the entire experience—by the tear gas and bullets being shot at us moments before.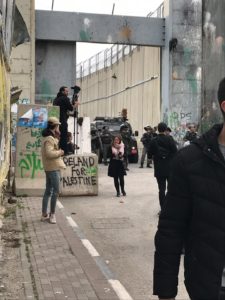 Later that day my Palestinian brother and sister got a good laugh out of how severe I found the protest: "On a scale of one to ten, that protest was a two," they said. It was—and is—jarring for me to consider how drastically different our lives are, despite being so close in age. The reality, however, is that this is their life. Palestinians are strong and resilient, though. They laugh, play, sing, and dance—despite most being trapped by a wall and checkpoints.
Since being home, I have struggled with feeling angry at how Western Christianity has largely overlooked the plight of those living in the land where our God was crucified. I watched as thousands of Christians from around the world joined the Palm Sunday procession from the Mount of Olives to the Old City of Jerusalem. I watched them turn their faces away from the Palestinians in the procession being harassed and arrested. With heads turned, they sang "Hosanna, Hosanna!"
As I processed this event, I pictured Jesus standing with those Palestinians being harassed—weeping with the child whose uncle was arrested, standing firmly with the priests trying to help their parishioners. Jesus weeps over these events. And he weeps every time his people turn their faces away.
Visiting the Holy Land is more than just seeing where Jesus walked 2000 years ago. To truly experience Jesus in the Holy Land is to be with the people in the region. It's to sit and listen to their stories, to laugh with them and to cry with them.
This message I bring home: To those able to visit Palestine, go! Experience the beautiful and heartbreaking place that she is – and listen. Bring back your own stories to share with the world. And to those unable to go, listen the stories of people who have been there. Don't just hear what they have to say. Truly listen because the memories of those who have been there will undoubtedly overflow with incredible passion.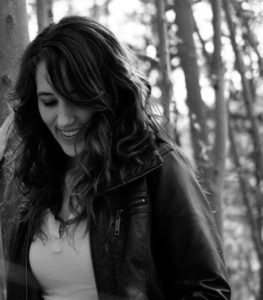 Originally from Ohio, Melanee Hamilton currently lives in Massachusetts where she studies Religion and Conflict Transformation at Boston University School of Theology. While in school, Melanee, a Brethren PK (pastor's kid) interned with On Earth Peace, a CoB affiliated nonprofit organization, where she revised the Matthew 18 Workshop on congregational conflict and reconciliation.
Image Credits: Melanee Hamilton