The Seminary Stewardship Alliance (SSA) met in Portland, Oregon on October 13-15 for its 5th annual conference. All seminaries that are participants of the consortium, from the American East Coast to a couple from Australia, and a handful of undergraduate colleges were in atten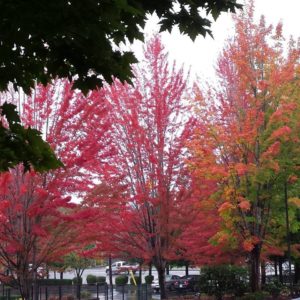 dance. The theme of the conference was, Permaculture: Developing a Creation Care Culture in Christian Higher Ed, and the program consisted mostly of plenary speakers and breakout sessions among regional and theological cohorts. It's a rare occurrence to see denominations like Southern Baptists, Lutherans, Methodists, Pentecostals, and peace churches agree to talk about any common interest. However, all attendants came to discuss the need for developing creation care principles and actions through our respective Christians institutions.
Assistant Professor Nate Inglis and three students (Chibuzo Petty, Elizabeth Ullery-Swenson, and I) represented Bethany Theological Seminary. Regarding the conference, Elizabeth shared:
In the midst of an early seasonal deluge, we were reminded that the challenges facing our global climate are dire and demand a response. During our time together we talked about our Biblical responsibility to care for all God's people and all of God's creation. The wide range of theological backgrounds made for challenging conversations, but I believe that everyone left with a sense of urgent purpose and direction. Personally, I came away with new Biblical grounded ways to find common ground across theological difference regarding our responsibility to care for God's creation.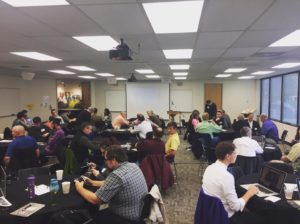 I appreciated the spectrum of Christian traditions that were in attendance and was stimulated by the opportunity to network with faculty and students from other schools that were also passionate about caring for God's earth. Daniel Brunner, professor at George Fox Evangelical Seminary, presented the opening plenary on Friday morning about Luther's theology of the cross and how it pertains to ecological justice. Chibuzo most appreciated the discussion of the Book of Job:
We're all familiar with the basic buffet of creation care verses. Hearing we would be exploring Job as a creation narrative certainly peaked my interest. Kathryn Schifferdecker, professor at Luther Seminary, spoke about her book on the subject Out of the Whirlwind. Her reimagining of eco-theology within the context of suffering and divine justice in Job was creative. She provided attendees with a much needed reminder of how radically non-anthropocentric God's creation is.
On one afternoon, I attended a breakout session with representatives from Anabaptist Mennonite Biblical Seminary. There we discussed a common heritage on our traditions with small-scale agriculture and the challenges that a range of theological perspectives within our denominations presents in promoting creation care ministries. Overall, I found the SSA conference an instructive and encouraging experience.
A complete list of schools represented can be found here: http://seminaryalliance.org/partner-schools/.
Each of the members of Bethany's SSA delegation will be speaking at Bethany Theological Seminary's Presidential Forum and Youth and Young Adult Event, March 16-19, 2017: God's Green Earth—A Call to Care and Witness. SAVE THE DATE!
Jonathan S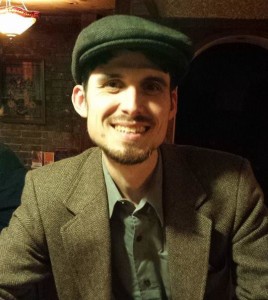 tauffer is a member of the Polo (IL) Church of the Brethren congregation. He is currently a student at Bethany Theological Seminary where he is finishing his MA with a concentration in theological studies.